Though I was born in Kalamazoo, Northern Michigan has played an important role in my family's history for many generations and I consider Petoskey my home.
In 1986, my aunt became the first member of the family to graduate from North Central Michigan College's nursing program. It has since become a family tradition with 13 other family members having graduated from the nursing program to date.
After graduating in 2008, I went on to obtain a bachelor's degree in nursing, a master's degree in nursing education and a master's degree in healthcare bioethics. I have been an ER nurse for 10 years and have spent 8 of those years engaged in international disaster relief work including Cholera in Haiti, Ebola in Liberia, Sierra Leone and Guinea Bissau, earthquakes in Haiti and Nepal, war in South Sudan, post war rebuilding efforts in East Timor, flooding in Louisiana and Hurricanes in Texas and Florida.
North Central Michigan College provided the knowledge base and practical skills I needed to continue my education and provide life saving treatment and education to individuals in need around the world.
2019 American Association of Community Colleges Outstanding Community College Alumni Award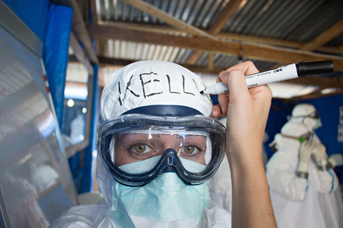 North Central Michigan College alumna, Kelly Suter (2008), will be honored by the American Association of Community Colleges as an Outstanding Community College Alumni. She and her two co-recipients are being recognized for the positive impact they have made on their communities, the nation and the world. They will be honored for their achievements at AACC's 99th Annual Convention on Tuesday, April 16, in Orlando, FL.