2021 Commencement
Congratulations Graduates!
Commencement Recordings
Commencement Information
You will see President Finley and members of our faculty dressed in their academic regalia. The colors on the hoods represent information about the wearer's academic background. The type of degree (bachelor's, master's or doctoral) is indicated by the width of the velvet edging. The length of the colors of lining denotes the school from which the degree was conferred. The color of the velvet edging denotes the field of learning.
The following is a list of colors established by the Intercollegiate Code to represent the departments of learning. The Intercollegiate Code of 1895 set the standards for academic dress in the United States. With the exception of revisions in 1932 and 1959, the code has been unchanged since its inception.
| | | | |
| --- | --- | --- | --- |
| Maize - Agriculture | Brown - Fine Arts, Including Architecture | Pink - Music | Salmon Pink - Public Health |
| White - Arts, Letter, and Humanities | Russet - Forestry | Apricot - Nursing | Gold Yellow - Science |
| Drab - Business Administration | Maroon - Home Economics | Silber Gray - Oratory | Citron - Social Science |
| Lilac - Dentistry | Crimson - Journalism | Olive Green - Pharmacy | Theology or Divinity |
| Copper - Economics | Purple - Law | Dark Blue - Philosophy | Scarlet - Theology or Divinity |
| Light Blue - Education | Lemon - Library Science | Sage Green - Physical Education | Gray - Veterinary Science |
| Orange - Engineering | Green - Medicine | Peacock Blue - Public Administration | |
The Academic Honor Cord recognizes a student's academic achievement in an associate degree or certificate program.
Yale - Distinction, GPA 3.50 - 3.69
Gold - High Distinction, GPA 3.70 - 3.89
Gold and Yale - Highest Distinction, GPA 3.90 - 4.00
Red, White and Blue - Military Honor Cord recognizes Veteran and Active Duty Members and the service they provide to our country.
White - Student Leadership Honor Cord recognizes Student Senate membership.
Purple - Ambassador Honor Cord recognizes Student Ambassador membership.
The Medallion - Recognizes Early College graduates.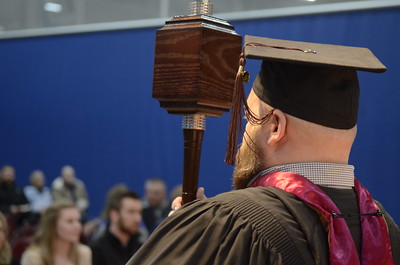 The ceremonial mace, a symbol of leadership and authority, is carried by the senior faculty member at all formal college events and is displayed on the platform during these functions.
North Central's mace was designed by Leon Nash, adjunct art instructor and North Central's director of Campus Housing, and manufactured with assistance from Kevin Glines, director and trainer for the college's Mobile CNC Lab.
Measuring 42" long and weighing 7.5 pounds, the mace is constructed of ash and oak trees, both native to Northern Michigan. Ash was selected because it is known as a traditional handle-making wood, and oak lends stability to the head of the mace.
The "X" design on the bottom of the mace is symbolic of four arrows coming together at a single point, representative of students, faculty, staff and community members from different backgrounds converging at a single destination, North Central Michigan College, for a common purpose: to seek and impart knowledge. At the opposite end of the mace is a guiding arrow with a Flame of Knowledge inside, representing the conclusion of one's journey at North Central and the resulting transfer of knowledge.
"Education is the kindling of a flame, not the filling of a vessel." —Socrates
The College seal is displayed prominently on one side of the mace head, matching the President's Medallion, which is worn during formal college events. The remaining three sides are blank at present, the College's future chapters yet to be written.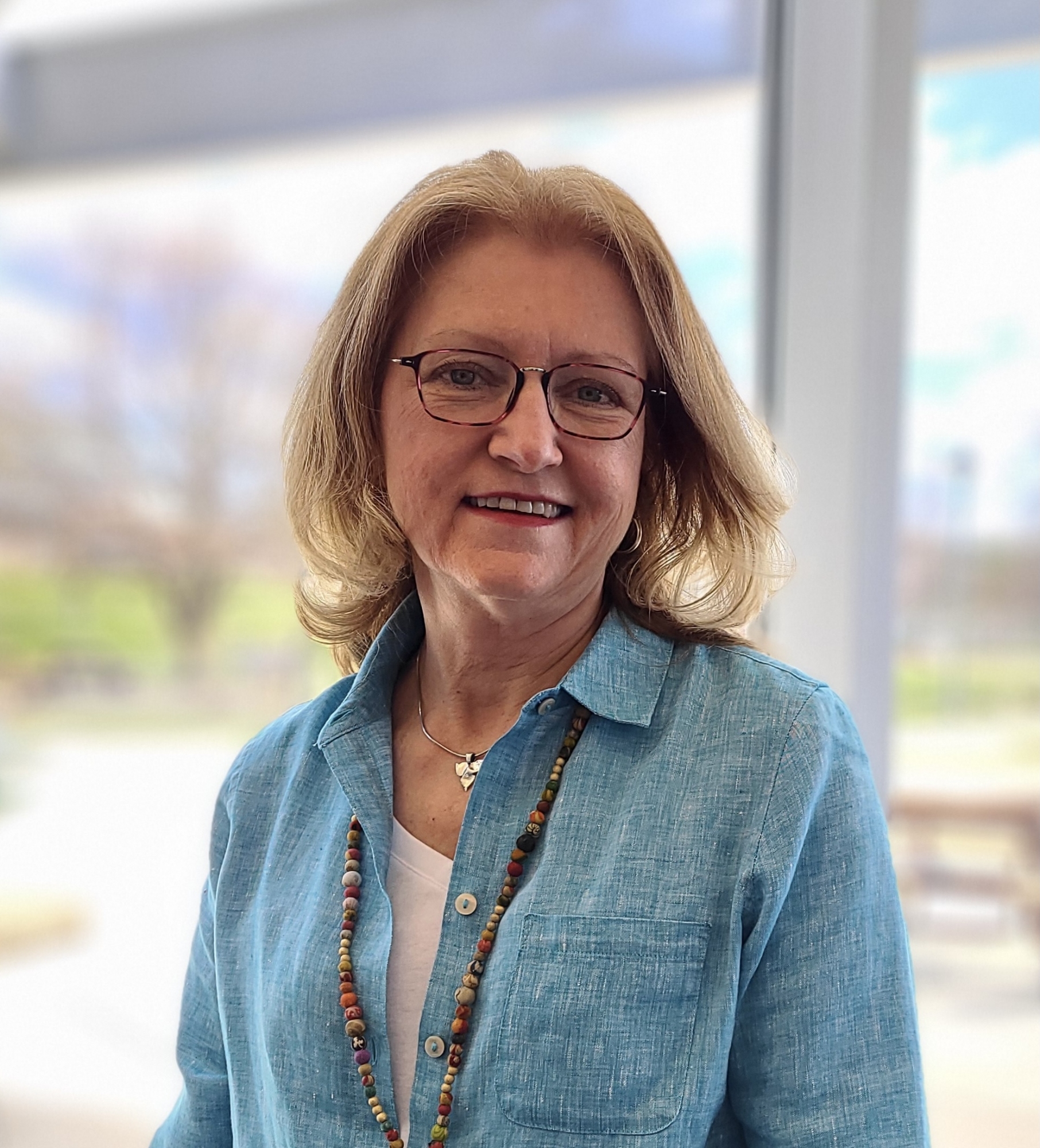 Maureen Conley, A.A., B.A., J.D., will provide the commencement address to the Class of 2021.
Born and raised in Petoskey, Maureen graduated from North Central with an Associate of Arts degree in 1976 before finishing her bachelor's degree at the University of Michigan. Inspired by many spirited debates with her father on issues ranging from politics to religion, she earned her terminal degree: a juris doctorate from the University of Michigan Law School.
Maureen has enjoyed a successful career in commercial real estate law. She has represented national clients in the acquisition, development, finance, sale and leasing of shopping centers, enclosed malls, outlet centers, office and mixed-use projects, restaurants, and multifamily communities. Maureen has negotiated complex real estate agreements with national retailers, restaurants and manufacturers, and has guided multifamily clients through numerous HUD-insured financings.
From 2010–2017, Maureen served as in-house counsel with a multifamily real estate company. Her work included the finance and purchase of new communities; HUD-insured financings; acquiring condo units in Florida; managing community associations; and acquiring entire condominium communities utilizing an eminent domain-type power granted by Florida statute.
In addition to her law practice, Maureen co-owned a successful business offering electrostatic coating for antique and classic car restoration.
A lifelong student, Maureen has learned how to weld, operate a forklift, lathe, drill press and a sand blaster. She has studied the Bible, Christianity, Catholicism, LEED green building principles, sign language, Tai Chi, tap dance, and Christian Conciliation. Maureen enjoys hiking nature trails and beaches, finding Petoskey stones on the shore, skiing and playing ping-pong.
One of Maureen's great passions is "paying it forward" with pro bono legal services, helping individuals prepare themselves and their loved ones for life's most trying and complicated milestones, including illness and disability.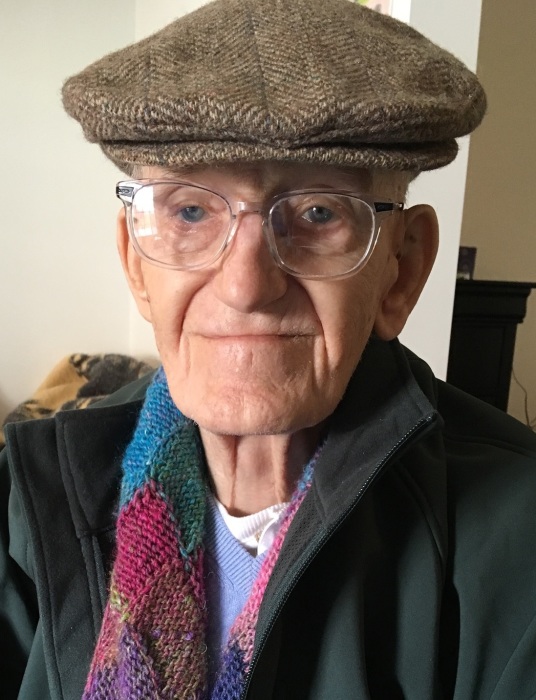 During the 2021 commencement ceremony, North Central will award a posthumous honorary degree to Raymond T. Conley, a founding member of the college's board of directors.
Conley, president of Petoskey's First National Bank and Trust, was instrumental in securing public support for the formation of a local college. He served as board secretary from 1958—1978 and then as board president until 1980. He passed away in 2019.
Ray Conley's daughter Maureen Conley, a North Central alumna ('76) and a local attorney specializing in real estate law, will provide this year's commencement address. She will accept an honorary degree on her father's behalf.
"We are thrilled to hear from an alumna and professional of Maureen's caliber, and we're honored to recognize Ray Conley's lasting contributions to the college and our community." —President David Roland Finley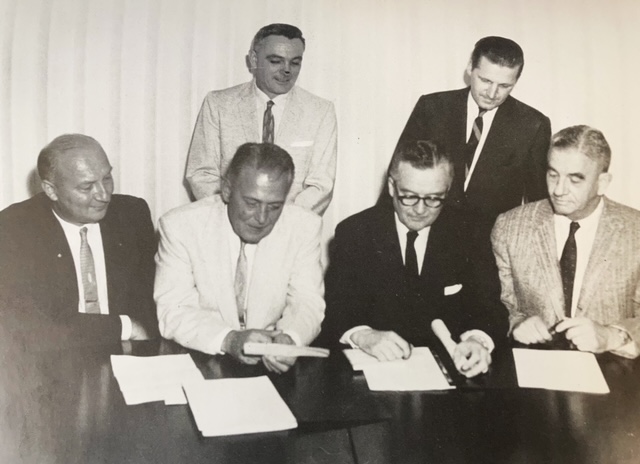 North Central's first Board of Trustees (L to R), seated, K.C. Festerling, C. Lester Johnson, Dean C. Burns, M.D., Eder C. Mathews. Standing (L to R), Ed Cadwell, Raymond Conley.
In accordance with Board policy ​adopted in 2018, North Central may award award an honorary degree to an individual as the highest form of recognition for extraordinary service to the college or outstanding contributions to the community.
The honorary degree shall be based on the following areas in which individuals may have made significant contributions:
Educational Service: Recognizing outstanding service that enhances educational opportunities for the area or that gives personal assistance that leads to the success of individuals in higher education.
Humanitarian Service: Recognizing outstanding altruism that enhances the quality of life for others in the area.
Servant Leadership: Recognizing outstanding service that goes "the second mile" beyond the servant's paid job description in any area of leadership and that benefits others and/or enhances their leadership capabilities.
Arts and Letters: Recognizing outstanding contributions to the arts in any form that enhances the quality of life in the area.
Entrepreneurial Leadership: Recognizing outstanding contributions to business/industry through creative start-ups of new enterprises or through innovative management or business or industry.
Degrees Conferred
*Denotes With Honors | *With Distinction | **With High Distinction | ***With Highest Distinction