Be Your Own Boss: 4 College Degrees That Lead to Small Business Success
April 7, 2021
Following your passion to do what you love for a living, on your terms — does it get any better?
For those with an entrepreneurial spirit, the answer is no. But do you need a college degree to start or run your own small business? Well, no. And yes.
Start with passion. Supplement with education.
While a college degree isn't a requirement for starting your own business, every entrepreneur will benefit from a familiarity with basic business concepts. Put simply, education covers where experience is lacking. And when you know more, you can do more.
Think of it like this:
You're a computer guru who dreams of starting your own IT business, but you have no bookkeeping experience. A bookkeeping degree can give you the tools and information you need to become a "numbers nerd," which is a boon for your revenue.
The bottom line? A college degree is worth it.
Four College Degrees for entrepreneurs
1. Business Management
Running a business is an art and a science, and successful entrepreneurs must think and act strategically. A business management degree covers a broad range of subjects, including accounting, economics, communication, and marketing. Versatile and portable, this degree packs major ROI. If you want a solid foundation of business fundamentals, this is a great option.
2/3. Accounting/Bookkeeping
Accurate bookkeeping is key to business success, and the demand for accountants and bookkeepers trained in the latest software is growing. These degrees will prepare you to audit your books, record financial transactions, and manage invoices and receipts using industry-leading software. Tip: Look for programs that align with American Institute of Professional Bookkeepers (AIPB) standards to ensure real-world, relevant content.
4. Marketing
The third quarter of 2020 saw the highest number of new business applications since the U.S. Census Bureau began tracking business formation statistics in 2004. Some experts believe a desire for more online retail (read: less face-to-face interaction) led to the startup boom. In any case, with 423,095 new startups in the U.S. since January 2021, savvy marketing will be key to small business success. A marketing degree will help you identify and translate unmet consumer desires into a product or service that sells. You'll also learn how to brand your small business, reach your target audience, and create compelling messaging that appeals to customers.
Choosing the Right Degree
In summary, the right degree or certificate can provide maximum value for a minimal time commitment. A career specialist or college advisor can help you determine which program and degree level will help you meet your professional goals. To learn about North Central's business programs, visit www.ncmich.edu/businessdegrees.
Not quite ready to commit to earning a degree just yet? North Central also offers 170+ business workshops taught by industry experts and available entirely online. Examples include QuickBooks accounting, digital marketing, supply chain, and entrepreneurship. Visit www.ed2go.com/ncmc/ for the complete list of workshops.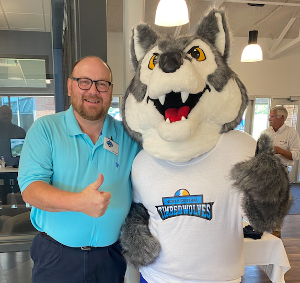 Doug Tippett
Career Development Specialist
dtippett@ncmich.edu
231-439-6265