Industry Programs
NCMC's industry programs will enrich your problem-solving skills. These programs are specifically designed to enhance creativity and logistical skills, which encourages a well-rounded education. North Central's industry partners have helped develop an industry curriculum that will solidify these necessary skills. Becoming skilled in the operation of Computer Numerically Controlled (CNC) machines and Computer-Aided Manufacturing programming software will help propel you into future careers.
Course Offerings
Search North Central courses that work with your schedule.
Course Schedule
Career Opportunities
Students may find opportunities in the following areas of study:
Hotel/Casino Management
Hotel/Casino Sales
Office Assistant
Guest Room Sales Manager
Lodging Manager
Manufacturing Engineering Internship
Machinist/Welder
Numerical Control Operator
Welder Quality Technician
Engineering Internship
Process Engineer
Check Out Available Careers
O*Net Online has detailed descriptions of the world of work for use by job seekers, workforce development and HR professionals, students, researchers and more!
Research Careers
Alumna Profile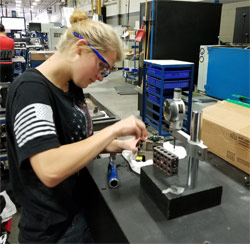 —Shawntee Kauska


Enroll today!
Our admissions team will assist you through every step of our free application process.
Apply Now