Are You Ready for Online Learning?
Online Learning - Convenient & Flexible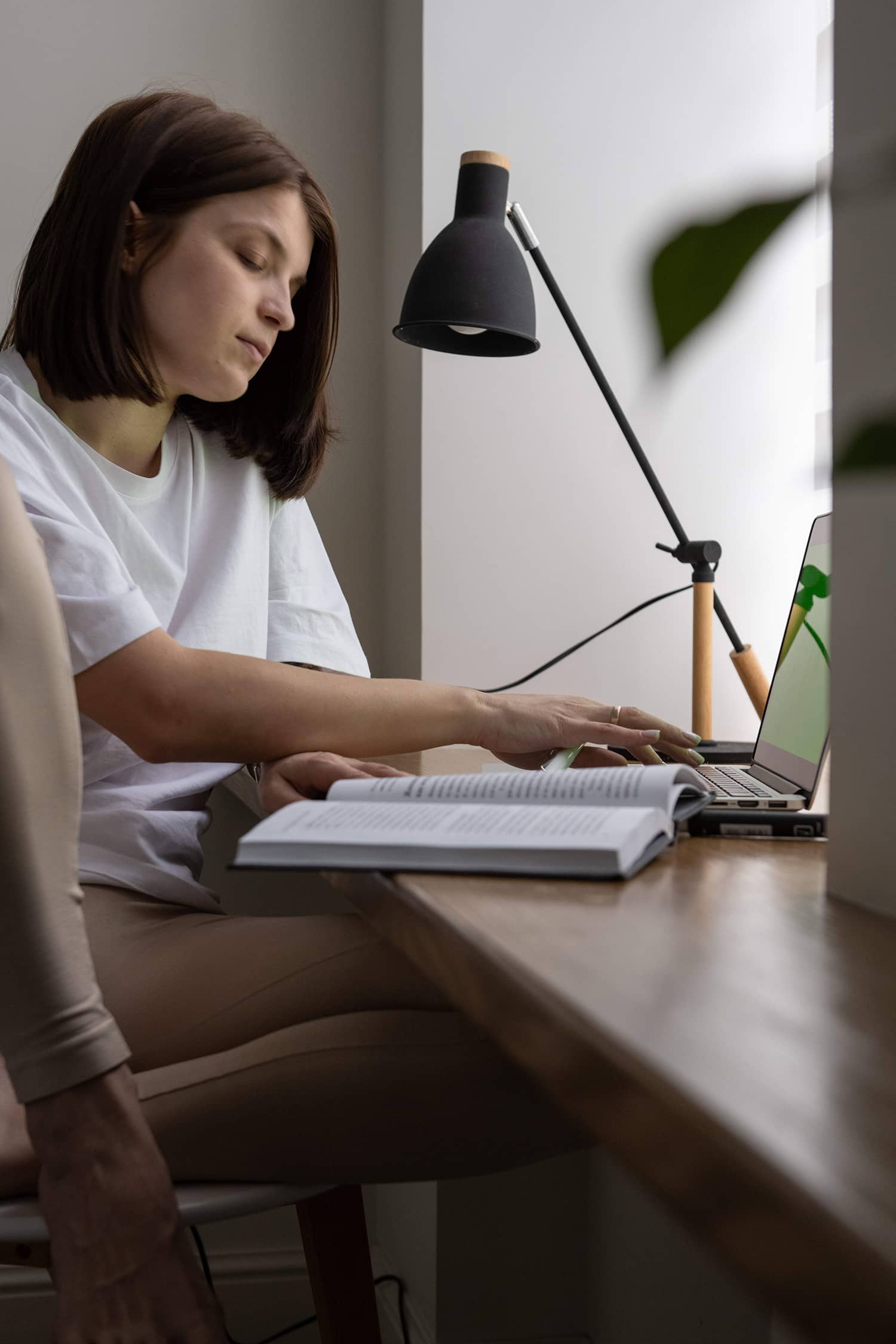 It's true — online courses are a very advantageous way to earn a degree — you don't have to think about parking on campus or campus housing.
However, earning your degree online requires that you are self-motivated, have consistent access to reliable high-speed internet and other necessary technology, and have at least moderate computing skills.
Are you prepared for online classes?
Take this free self-assessment from Michigan Colleges Online to determine if pursuing higher education online is a good fit for your learning style.
How are your computer skills?
To be successful in online courses, you must possess basic computer skills and feel comfortable reviewing content in a variety of multimedia formats. The following computer skills are examples of the skills needed to be successful in online courses:
Keyboarding
File management

Create, name, and save files
Organize and manage files

Email

Send and receive email
Attach files

Word processing and presentation software, such as:

Microsoft Word
Microsoft PowerPoint

Website interaction

Upload and download files
Post and respond to discussion boards
Take quizzes
Is your hardware ready for online courses?
In order to be eligible for online courses, you must have access to reliable and consistent internet and a computer with up-to-date software. You need to have access to, and have the capability to use:
High-speed Internet (i.e., cable modem, DSL)
Web browser (free) — the most updated version of Firefox, Chrome, or Safari is highly recommended
Microsoft Office (Free to North Central students as part of your tuition).
Students, please log on to the NC Portal and click on the "My Office 365" button to download your free copy of Microsoft Office.
Adobe Acrobat reader (free)
Some instructors have more software or computer requirements, so make sure you check the course description in the course catalog to find out whether an online course has special requirements.
Online Learning Tips for Success
1. The syllabus
On the first day of an online class, log in to Brightspace and select your course. Read any existing announcements and go to the Content link at the top of the page to find the course syllabus. Download it and print it — it is your "handbook" for your course and there will be important information on the course, including contact information for your instructor, if you have any questions.
2. Self-motivation & time management are essential
Online classes are structured more freely than a fixed physical class period, so self-discipline and responsibility are key to a successful schedule of study. Allowing extra time for unintended disruptions like technical problems, family or personal illness, or other issues helps manage the workload as well.
3. Feedback may not be immediate
Due to the nature of online courses, a delay may be expected when you email your instructor or engage with others on discussion boards. Instructors usually respond to all inquiries very promptly, but please allow two business days for a response (at most). For your instructor's specific communication policy, consult your course syllabus.
4. Netiquette
Follow proper internet etiquette when emailing professors, posting to discussion boards or corresponding with your classmates and others. Always use proper grammar, avoid slang or text language, and use a collegial tone.
5. Basic Microsoft programs
Learn and get comfortable with programs such as Word, Excel and PowerPoint.
---
The complete Microsoft Office Suite and 1TB of OneDrive cloud storage are available to North Central Students for FREE FOR STUDENTS (using your North Central email when signing up).
The # 1 thing to remember about online learning is that it all depends on YOU.
Although online courses provide a certain sense of flexibility in both time and location, it can be stressful to learn how to manage your goals and time to guarantee your success.
Because of the independent nature of online learning, instances may arise where you feel separate from your fellow students, college staff and professors, but remember that they are just a phone call or email away!
Be proactive in your interactions. Ask for help or advice. Be resourceful and seek out anything you feel like you need in order to produce your best work.
3 tips for goal setting
1.Use the SMART method
Set goals that are Specific, Measurable, Attainable, Realistic and Timely. For instance, set a goal to complete your first course one week early. However, do not set unreachable goals, like finishing a course in three weeks.
2. Make checklists
Write down your goals for the day. These can be big or small: read chapter 5 or complete a research paper outline. As you complete the goals, check them off, cross them out or highlight them. This will allow you to visualize what you accomplish and will provide motivation to keep going.
3. Reward yourself
When you finish a big research paper or complete a course, give yourself a prize. Go see a movie, get a pedicure or eat at your favorite restaurant. You deserve it!
1. Keep a calendar
There are many different options for this; use whatever works the best for you! Some examples include a desk or wall calendar, planner or phone app (or even sticky notes!). Make sure to mark all due dates, study times, and appointments on this calendar.
2. Track your days
As you are getting used to being a student once again, remember to track your time. For many people, there are a number of distractions during the day that could be better utilized for studying or completing other class-related tasks. If you are aware of these short periods, you can use them to look over notes or look over a chapter.
3. Block your time
Plan your day by blocking out what you should be working on for each half hour. This should include blocking out time to eat, shower, commute to/from work, work, study, spend time with kids/family and relax. Try to stick to the time block as much as possible, but do not be too rigid. If you restrict yourself too much, you can add to your stress.
4. Know when you are most productive
If you are a morning person, make sure to set some of that time aside for studying or working on coursework. If you work better in the evening, set aside study time then. If you know when you are most productive, you can get work done more efficiently.
5. Learn to say, "no"
It is easy to get wrapped up in tasks that you should not take on. For many, saying no is not easy; however, most people will understand that your studies are important and will respect your decision.
6. Procrastination is not your friend
Putting work off until the last minute can be highly detrimental because, if you get sick, you cannot expect immediate help from professors or staff. Some students work better under pressure; however, it is highly suggested to get your work done early so you can ask questions if needed.
Online learning can become stressful for any student. Whether it is falling behind in a course or struggling to understand a concept, stress can affect students in all aspects of learning and beyond.
5 tips to reduce stress
1. Ask for help
You have many advocates at North Central. From your professors to your Academic Advisor, you have so many people to go to for help. Do not be afraid to ask any type of question. If one person does not know how to answer it, he or she will find someone who does.
2. Take breaks
If you have an 8-page research paper to write, don't try to write all eight pages in one sitting. Make an outline and write one section at a time. Allowing yourself time to breathe will make your work time much more productive.
3. Eat well, sleep well and exercise
These basic habits can play a tremendous role in managing stress. Lack of sleep or nutrition can cause you to become sluggish and increase your stress level. Exercise will give you an extra boost of energy.
4. Don't miss the forest for the trees
If you have an assignment that is causing you major stress, think about your ultimate goal. Yes, this research paper may be the most difficult thing you've ever written, but it will get you one step closer to your degree. Always keep that ultimate goal in the back of your mind, and don't let one assignment or one course cause you too much stress.
5. Relax (or at least try to)
Do yoga, meditate or get a massage. Do whatever it is that makes you relax. Reward yourself and remember that you can get through any assignment. Managing stress is important when balancing work, school, family, friends etc. Learn how to best manage your stress level to be a successful online student.
Make sure your computer and Internet are working properly and that you have all the required programs, such as Microsoft Word.
Supplies for taking notes are important. This may include a pen and notepad that are only used for school or a file on your desktop that keeps all your notes in Word documents.
Create a folder on your desktop for school-related documents and other files that you receive from professors. Be sure to back-up these files with a flash drive or some other method.
Ensure that you have received your textbooks (some courses may not require a text).
Check that your browser is ready. Login to Brightspace, choose "Learn How To Use Brightspace" in the top menu and select "System Check." This page will automatically detect your browser and provide you an immediate on-screen report. In the event that you have questions about Brightspace, contact the Brightspace Help Desk at (231) 439-6350 or mleaver@ncmich.edu.
Explore!
Log into Brightspace and explore your course or courses. Click through all of the links to get a feel for the design and layout of the course. Where is each unit located? Where is the professor's contact information? It's a good idea to keep the contact information in a place that doesn't require internet access. Most importantly, locate, print, and READ the syllabus.
Introduce yourself to your instructor and classmates
Instructors will often ask you to introduce yourself to the class through a discussion board or other activity. Write a quick introduction that will help others get to know you and your personality. Have fun!
Begin your first assignments and readings
Get started! Find your first activities and assignments that are due the first week of class and begin. This allows you plenty of time to ask questions and become familiar with the course content. Remember, in an online course you are responsible for managing your time wisely.
Academic & Student Support
North Central provides online students access to the same support services on-campus students receive.
24/7 Distance Education Technical Support
If you're having technical problems with your online course, North Central has 24/7/365 support for online students. *Important: If you need assistance accessing course content, grades, or tests, please contact your instructor, as Tech Support cannot assist with those issues without direct authorization from the instructor.