Strategic Plan
Thrive 2035
An unwavering focus on the college's people, academic programming, community partnership, a solid facilities and technology infrastructure and financial security necessary to prepare the next generation of successful students.
---
Strategic Plan Components
Strategic Directions - Thrive 2035 supports the college's mission and vision and is comprised of

4 Strategic Directions

that will guide North Central for the next 15 years.
Strategic Goals - The 4 Strategic Directions are driven by successful implementation of

8 Strategic Goals

which are updated in 5 year cycles.
College Action Plans
- The Strategic Directions and Strategic Goals are supported by yearly
Action Plans
that drive divisional/departmental work plans.
4 Strategic Directions (SAIL)
SUSTAINABILITY, ACADEMICS, INFRASTRUCTURE, LEADERSHIP
SUSTAINABILITY: Increase environmental, financial and philanthropic sustainability.

Goal 1: Enhance the college's viable, environmentally sustainable practices.
---
ACADEMICS: Become the student-centered college of choice.

Goal 3: Update and expand academic programming.
Goal 4: Improve student success, access and engagement.
Goal 5: Increase student completion.
---
INFRASTRUCTURE: Build a thriving comprehensive college.

Goal 6: Develop and sustain employee engagement.
Goal 7: Enhance facilities.
---
LEADERSHIP: Grow to be the region's Community Leader.

Goal 8: Expand internal and external community engagement opportunities.
Goal 1: Develop new, cutting-edge academic programs and strengthen existing programs
College Initiatives:
Establish a process to conduct formal review of existing programs as mandated by HLC by June 1, 2021

Create 2 new vocational certificate and/or degree programs that align with one of the "Michigan's Hot 50 Jobs through 2028" established through the Michigan Bureau of Labor Market Information and Strategic Initiatives by Feb. 1, 2022

Create 1 new transfer program concentration aligned with future job trends by June 1, 2022

Complete a strategic evaluation of NCMC's course scheduling, course and program delivery, and program offerings against both student and market demand to better understand the needs of current and prospective students and to update/revise our program portfolio for relevancy in today's economy by 08/1/22.

Revise course scheduling and delivery by 9/1/22.

Introduce 2 new or substantially updated programs by Fall 2023.

Improve dual enrollment and Early College gateways by creating a plan to develop high school teachers to meet Higher Learning Commission (HLC) instructor qualifications by June 2023.
Goal 2: Utilize adaptive, engaging instructional methods and technology for program delivery.
College Initiatives:
Gain HLC approval for fully online program delivery by June 1, 2021

Modify curriculum in 3 instructional areas to utilize new technology for enhanced program delivery by June 1, 2021
Goal 3: Expand Corporate and Community Education (CCE) offerings and community involvement
College Initiatives:
Continue to build an environment that fosters lifelong learning, and expand the target market to include young professionals and families by June 1, 2021

Expand Lifelong Learning by adding three new program offerings by June, 2021.

Provide at least one professional development or workforce training session per month

Develop at least 3 educational partnerships between the college and key business or non-profit groups in the community with the purpose of expanding learning opportunities in the community or providing resources to address community issues by June 1, 2021.

Increase noncredit revenue by __% by June 30, 2022.

Create a plan for integrated delivery of services by collaborating with organizations and agencies with similar goals and purposes by June 1, 2022.

Engage "no-college" students through CCE programs that help them connect with North Central by Fall 2022 (e.g. Investigate a new CCE offering to attract and recruit potential FTIAC students)

Create an entrepreneurial think-tank to enhance college/community partnership and support by June 30, 2021.
Goal 4: Provide regional leadership in select educational areas, driven by academic program reviews and local advisory groups.
College Initiatives:
Health Care

Continue to partner with McLaren on offering classes inside their facility, and to offer new or expanded programs according to their need (e.g. Medical Assisting) by Sept. 1, 2021

Hospitality

Boyne Hospitality Apprenticeship program...expand to include Birchwood/BarrelBack by June 1, 2021

Manufacturing

Partner with LTBB to hire Mechatronics instructor and develop new curriculum by June 1, 2021

Skilled Trades

Explore partnerships with CharEm ISD to offer 1 or more programs by Oct. 1, 2021

IT

CIS faculty working in close partnership with Google and with CCE to develop/expand IT Support certificate program by June 1, 2021
Goal 5: Solidify North Central Michigan College's reputation as the "Regional Convener" by increasing internal and external community engagement opportunities.
College Initiatives:
Continue garnering input through engagement with BRAC and Programmatic Advisory Boards on a periodic basis.

Provide a neutral meeting venue for 3 community collaborations by June 1, 2021. (i.e. quarterly affordable housing summits held at the college)

Establish a career and resource center.

Hire a Career Development Specialist by 8/1/20

Create a dedicated Career Center in the AD/CL by 3/1/21

Create a plan to expand the Career and Resource Center scope by working with local employers to understand talent needs and fill the gaps through providing internships and/or employees by June 30, 2021.

Schedule 2-3 meetings per week during the summer of 2021

Expand Career Development specialist role to include working with Boyne Workforce solutions to provide needed employees by June 30, 2022.
Goal 6: Intensify commitment to broaden diversity, equity and inclusion (DEI) on campus through initiatives, programs and outreach; student recruitment, retention and completion; and hiring practices for faculty and staff
College Initiatives:
Complete the comprehensive HEED Self-Assessment/Application annually for three years, beginning with the 2021 Application, to assess and guide expansion of college DEI efforts.

Contract the services of Dr. Hernandez over three years, beginning in Fall 2021 semester. (need student success deliverables)

The Diversity, Equity and Inclusion (DEI) Committee will create and activate a college diversity and accountability plan, including a scorecard to measure progress by June 2022.
Goal 7: Create stronger holistic, extra-academic support systems for student success, including expanded extracurricular offerings
College Initiatives:
Childcare

Begin discussions with ECE faculty regarding creation of "Talk and Teach" modules around campus, aimed at elementary-age students, with possible expansion into orientation materials for recruiting middle-high school students as practicable by June 1, 2022.

Investigate the feasibility of NCMC partnering with other local groups to offer childcare in the Petoskey area, and complete an analysis and recommendation by 6/1/2022.

Transportation

Appoint a NCMC representative to the EMGO group to facilitate the college's participation in this important community issue by 1/1/2021.

Housing

Appoint a NCMC representative to the Little Traverse Bay Housing Partnership group to facilitate the college's participation in this important community issue by 1/1/21.

Mental Health

Hire Full-time counselor by April 2020.

Offer dedicated workshops for faculty/staff to learn more about NCMC student's mental health and how everyone can recognize students that are searching for help by 2022.

Food Insecurity

Increase the number of students supported through the Campus Cupboard in 2020-21 by 5%.

Expand current sports available to students

Add one additional club sport to the college's offerings by June 1, 2021

Complete a comprehensive analysis on current and future athletic offerings at NCMC by Dec. 2021.

Create a college mascot by Dec. 30, 2021.

Implement Phase I by 04/30/21 which includes gathering feedback, choosing a mascot and developing the creative to be used in marketing materials.

Implement phase II by the end of fall 2021 semester which includes the actual costume, introduction event and public roll-out.
Goal 8: Optimize current and future physical plant and information technology Infrastructure, while executing the projects that align with the 15-year scope of work outlined in the 2019 Campus Master Plan.
College Initiatives:
Operate, maintain, and renovate campus facilities to serve the needs of the college.

Develop a facilities digital blueprint by April 1, 2021.

Enhance integrated communication through technology by 2023-24

Expand support of online class delivery to reach new markets for geographically or job-constrained learners by 2022.

Complete AD/CL renovation (Phases I and II) by Oct. 1, 2021

Completion of Phase I is scheduled for June 2021.

Phase II - Additional enhancements to the building will be completed in Summer 2021

Complete Phase I of new campus entrance by August 2021

Bolster technology infrastructure by June 1, 2023
Goal 9: Identify and support initiatives to increase enrollment, retention and sustainability on campus.
College Initiatives:
Create a Strategic Enrollment Plan by Oct. 15, 2021.

Complete an Enrollment Management Audit by 9/1/21

Create a program to identify, recruit and attract 2 new student groups by 9/1/20.

Implement 1 new targeted intervention for student support by 6/1/21.

Invest in enrollment software to identify prospective students by 6/1/21.

Increase fall year-to-year 2023 student retention rates by 2%.

Increase the number of annual Full Time Equivalent (FTE) Students by 5% over 3 years

Increase FTE 1% by fall 2021, additional 2% fall 2022 and additional 2% by Fall 2023.

Increase fall to spring persistence by 2%

Increase student satisfaction as measured by the Student Satisfaction Survey by 2% by 2022.

Create a Strategic Marketing Plan to promote North Central to prospective students and the communities it serves by May 15, 2021.

Complete Economic Impact Study by 5/1/21.

Complete Website Redesign by 10/31/21.

Expand Digital Advertising by 9/15/20
Goal 10: Grow the college's sources of financial capital, including philanthropic support
College Initiatives:
Complete Conference Services Business Plan by 6/1/22

Increase student revenue by 5% over 3 years

Projected level revenue increase will follow the FTE percent increase as previously stated (Fall 2021 1%, Fall 2022, 2%, Fall 2023 2%).

Increase the number of credit certificates granted by 5% by 2023

Create a culture of philanthropy on and off campus

Build base of annual philanthropic support by 10% (340 > 375 FY donors) by 6/30/21

Grow alumni engagement in philanthropy

Increase % of alumni who gave by 5% by 6/30/21

Capture 5 new alumni success stories to use in campaign and/or college communications by 6/30/21

Engage NCMC faculty and staff more in the philanthropic process.

Increase % of employees giving to the college by 5% from last fiscal year by 6/30/21.

Increase # of employees engaged in donor identification, cultivation, solicitation, and/or stewardship activities by 5% from this fiscal year by 6/30/21.

Each quarter, identify three college stories and develop donor and/or community communications that promote the value of the college to students, local employers, and the community as a whole.

Launch a series of successful campaigns to elevate the student experience and help the college implement its $60M vision.

Raise $6.5 million in support of Building Tomorrow Together Campaign by Aug. 2021

Raise money in support of CATEE Campaign (timing and $$ TBD)

Raise money in support of Innovation Center project (timing and $$ TBD)

Raise money in support of Bright Futures Campaign (timing and $$ TBD)

Establish lifelong relationships with learners

Design and implement a comprehensive engagement program for all who access/utilize the college by Dec. 2022.

Alumni

For Credit

Non-credit

SCRC

Natural Area/Harris Gardens
Goal 11: Develop the college's human capital
College Initiatives:
Enhance recruitment and candidate sourcing capability

Develop a Recruitment Strategy to support internal movement of staff and external hiring, including attracting top talent and providing a positive and consistent applicant experience by Dec. 2021.

Electronically source talent through enhanced systems and streamlined processes.

Develop and monitor key metrics such as time to fill, diversity and quality of hire to evaluate effectiveness.

Ensure NCMC values and a position of a great place to work is clearly conveyed to prospective candidates.

Design and implement a comprehensive Orientation and Onboarding program by June 2022.

Create a process designed to welcome and acclimate new employees into NCMC's culture

Implement a 90-day onboarding program to avail managers of the tools and timeframe to support newly hired or newly promoted staff and allow new employees to acquire the essential knowledge to be successful in their respective roles

Develop and implement an Employee Engagement and Recognition Strategy by May 2022

Determine appropriate recognition strategy, reinforce culture/values, improve engagement and productivity.

Build a sense of community and involvement amongst employees through engagement activities.

Develop and reinforce employee trust in leadership by gathering feedback and ideas and transparently implementing them.

Design a Performance Management Process that encourages and supports a performance-based employee culture by Mar. 2023

Ensure effective feedback is provided to position employees for growth.

Create an automated performance review and management process.

Provide a platform to deliver ongoing performance management, align employee goals with organizational strategy, address competency gaps and use data to inform professional development, merit initiatives and leadership planning.

Develop a streamlined approach aimed at facilitating frequent and meaningful conversations about performance and development between employee and manager.

Implement redesigned HR business processes and workflows, with automation to eliminate manual procedures and paper forms by March 2023

Create a Succession Planning Process by June 2023

Establish a framework to prepare a leadership pipeline to fill gaps created by retirements and turnover.

The succession planning process will benchmark skills and competencies, identify skill gaps and implement professional development plans to bridge those gaps.

Develop and implement a Board Engagement and Recognition Strategy by June 2023

Cultivate a mindset that defines board members as assets to be enhanced.

Develop and reinforce engagement, participation and active support as elements of board participation.
Goal 12: Lead the region in adopting viable, environmentally sustainable practices.
College Initiatives:
Create a multi-year sustainability plan for the college by 6/1/2023 that engages the campus and community in creating a more sustainable future.

Engage students in initiatives that promote leadership and service in sustainability

Integrate sustainability into educational curriculum and experiences

Model sustainability through efficient, innovative facilities and operations that educate the campus community and improve the quality of life

Propel awareness and sustainability beyond campus

Advance 2 initiatives to increase sustainability on college property by June 2021.

Develop and implement 2 new campus sustainability initiatives by March 2023.
---
Strategic Planning Process
Thrive 2035 builds from the momentum surrounding North Central's aim to reach even higher in service to its students and to Northern Michigan.
The strategic planning process spanned 24 months and was completed with input from a wide variety of stakeholder groups. The process was led by the Strategic Planning Action Team (SPAT) and the first product of this process was the creation of NCMC's new Mission, Vision, and Values.
The Strategic Directions and Strategic Goals are supported by Action Plans, that will drive divisional/departmental work plans, upon which progress will be tracked and performance evaluated for all North Central personnel beginning with the 2021-22 fiscal year.
Environmental Scan
SWOT Analysis
2019 Master Plan
Numerous Stakeholder Groups
Phase 1
Mission, Vision, Values - Created Feb. 2020.

Approved by Board of Trustees March 2021.
Phase 2
Strategic Directions & Goals - Created Dec. 2020

Approved by Board of Trustees March 2021.
Phase 3
2021-22 Action Plans (Initiatives) with KPIs - Created April 2021
Phase 4
2021-22 Divisional/Department Work Plans - Created June 2021
Phase 5
Implementation - July 1, 2021
Phase 6
Analyze 2021-22 Progress - June 30, 2022
Begin again at Phase 3 for 2022-23

2022-23 Action Plans with KPIs - Rolled out July 1, 2022
Office of the President
Strategic Planning Action Team (SPAT)
Cabinet Liaison:
David Roland Finley, President
SPAT Co-Chairs:
Carol Laenen, VP of Marketing & Strategy
Stephen Strom, VP of Academic Affairs
Renee DeYoung, Vice President of Student Affairs
Tom Zeidel, Vice President of Finance & Facilities
Chelsea Platte, VP of Advancement, Foundation Executive Director
Scott LaDeur, Political Science Professor
Christy Lyons, CCE Director
Dallas Culvahouse, SCRC Director
Lynn Eckerle, Director of Human Resources
Megan Van Horn, Communications & Public Relations Manager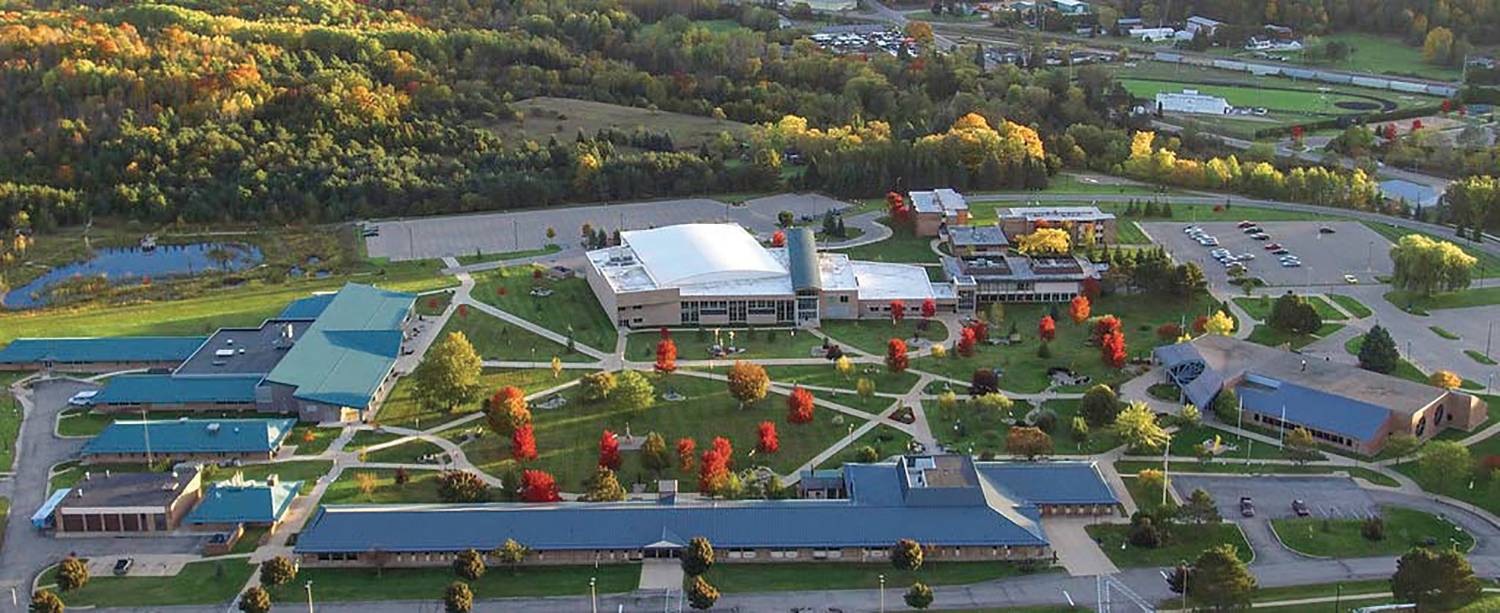 Thrive 2035
North Central Michigan College's Strategic Plan 2021-2035
To view the comprehensive Strategic Plan, please click the link below.