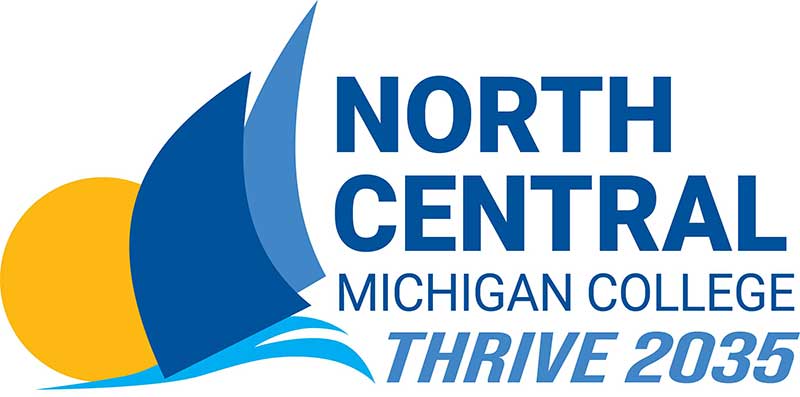 Strategic Plan 2020-2035
THRIVE 2035
DRIVEN BY STUDENT SUCCESS AND EQUITY, THRIVE 2035 AUGMENTS THE COLLEGE'S COMMITMENT TO ITS PEOPLE, PROGRAMS AND PLACES
---
Strategic Plan Components
4 Strategic Directions

Remain in place to guide North Central for the 15 year planning cycle.

STUDENT SUCCES
ACADEMICS
INVESTMENT IN PEOPLE
LEADERSHIP

4 Strategic Goals

Support the Strategic Directions and are on a 5-year cycle.

Goal 1: Increase Student Success
Goal 2: Update and expand academic programming
Goal 3: Foster employee engagement and retention
Goal 4: Grow to be the region's community leader in the areas of sustainability and community collaboration

26 Action Plans

Support the Strategic Goals and are on a 2-3 year cycle.

Action Plans have divisional/departmental objectives with KPIs to measure yearly performance.
---
North Central's Commitment
THRIVE 2035 augments the College's commitment to its people, programs and places.
#1 PEOPLE
North Central is driven by student success and equity and institutionalizes a collective sense of belonging for its students and employees to feel cared about, accepted, respected and valued. The College is dedicated to helping each student succeed by increasing student engagement, improving completion rates and closing the Opportunity Gap by striving for equitable access and outcomes for underserved and low-income students. The College focuses beyond the classroom, enriching connections with the community, supporting the paths of students after their time with us and bolstering the regional economy and workforce.
#2 PROGRAMS
North Central is committed to transforming the lives of our students through quality instruction rooted in collective efficacy. The College will develop and maintain innovative, relevant programming aligned with student and labor market demands for our graduates to obtain well-paying jobs.
#3 PLACES
The college must have buildings/classrooms, technology, human resources and expanded services to support student success and the expectations of tomorrow's higher education students and lifelong learners. At the same time, we will not lose sight of the natural environment and sustainability of the College.
Invest in what's working
Update & expand academic programming and build strength in transfer education
Modify what's not
Deliver new and re-vamped occupational programming
Meet today's needs
Strengthen workforce development and lifelong learning programming
Focus on student success, engagement and support
Plan for tomorrow
Student success and equity is at the center of all we do
Focus on employee engagement and retention
Growth in community leadership and support
Create a truly consumer-oriented approach to higher ed
Mission, Vision, Values Created - February 2020
Mission, Vision, Values Approved by Board of Trustees - March 2020
Strategic Directions & Goals Created - Dec. 2020
Strategic Directions & Goals Approved by Board of Trustees - March 2021
2021-22 Action Plans with Objectives and KPIs Created - April 2021
2021-22 Divisional/Department Work Plans Created - June 2021
2021-22 Strategic Plan Implementation - July 1, 2021
Progress against 2021-22 Objectives Analyzed - June 30, 2022
Comprehensive Strategic Plan Revision - December 2022
2022-23 Action Plans with Objectives and KPIs Finalized - January 2023
Revision approved by Board of Trustees - February 2023
2022-23 Strategic Plan Implementation - February 2023
Progress against 2022-23 Objectives Analyzed - June 30, 2023
Mission
To provide exceptional, accessible, relevant higher education to the benefit of all.
Vision
To become the premier student-centered college, as partners on the learning journey.
As such, North Central will be recognized for student success and equity, transfer education, workforce development, and lifelong learning, energizing the social and economic vitality of the communities it serves.
Values
Excellence – We hold ourselves to the highest professional standards, exceeding expectations by providing transformative learning experiences and exceptional service.
Integrity - We model ethical and honest behavior, building trust and inspiring confidence. Accountable for our words and actions, we are genuine, transparent and respectful.
Results - On and off campus, we continually deliver on our commitment to improve the lives of our students, our institution and its relevance to those we serve through innovation, agility and thoughtful risk-taking.
Stewardship - We commit to the responsible care and growth of the human, environmental, economic and cultural resources entrusted to us.
Compassion - With kindness, caring and dignity, we seek to understand and address the complex and unique needs of others.
Inclusion - We strive to create a welcoming environment that embraces and respects the uniqueness of each individual and celebrates the power of a diverse community.
The college's vision, mission and values drive the Strategic Plan. The Environmental Scan and SWOT Analysis set the stage by depicting the current external and internal environments under which the plan was developed. The College's Master Plan is a key element in aligning our strategic agenda with our programs and facilities. This knowledge informs the annual planning process.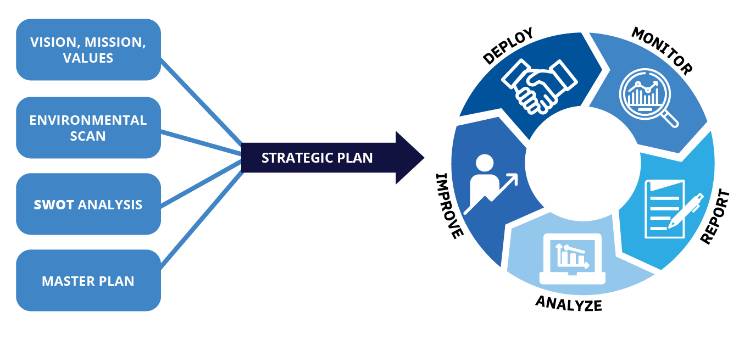 The planning process pyramid shows the strategic alignment of measurable actions (KPIs) based on the College priorities used in developing and implementing the strategic plan. The plan is implemented in planning cycles, providing annual accountability and evaluation of progress as outlined in the pyramid.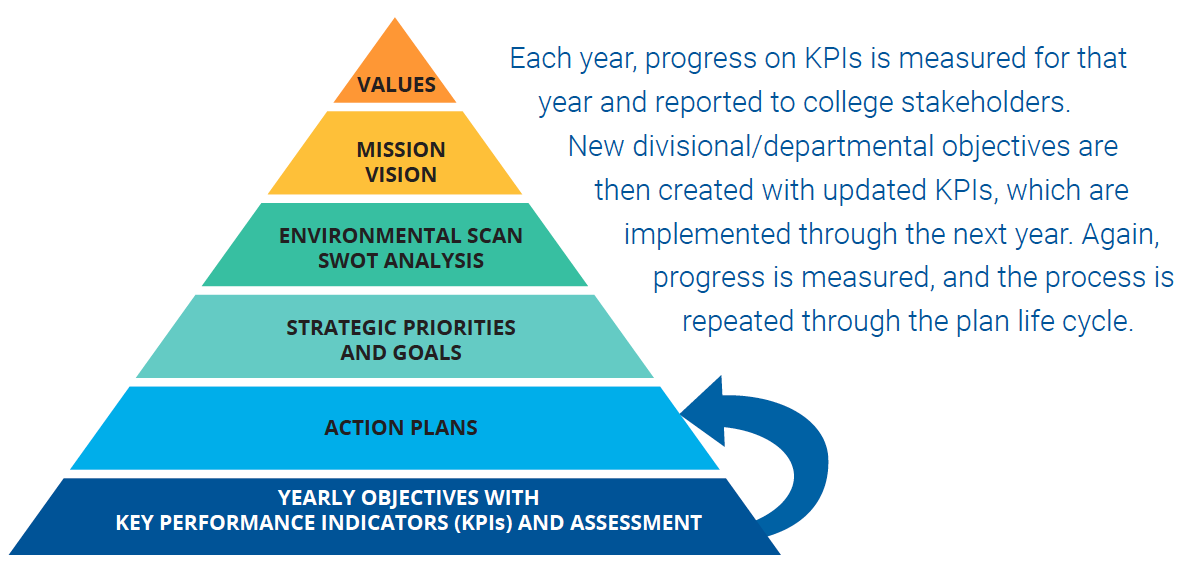 Cabinet Liaison:
David Roland Finley, President
SPAT Co-Chairs:
Carol Laenen, VP of Marketing & Strategy
Stephen Strom, VP of Academic Affairs
Renee DeYoung, Vice President of Student Affairs
Tom Zeidel, Vice President of Finance & Facilities
Chelsea Platte, VP of Advancement, Foundation Executive Director
Scott LaDeur, Political Science Professor
Christy Lyons, Dean of Corporate & Community Education
Dallas Culvahouse, SCRC Director
Lynn Eckerle, Director of Human Resources
Nicki Morris, Assistant Registrar
Megan Van Horn, Communications & Public Relations Manager