Visit registered therapy dog Ruby and her handler in the NCMC Library from 10 a.m.—1 p.m.
---
Meet Ruby: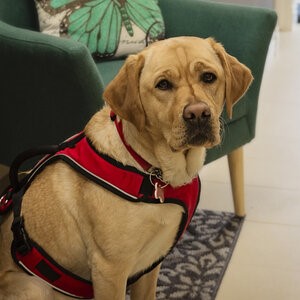 My name is Ruby Dubey, and I am a yellow Labrador Retriever. In September 2015, I was born in Rochester Hills, Michigan. My career was already chosen for me before I was born: I was to become a Leader Dog for the Blind. At three months old, I began living at my foster home in Wolverine, Michigan, and received intense training for becoming a Leader Dog. The training included hours of learning to sit, stay, off, come, around, heel, not eat food off the floor, not to bark, walking up curbs and on stairs, plus many other skills. It was really hard work for me, just being a puppy and all!
When I was 1,I was returned to Rochester Hills to the Leader Dogs for the Blind training facility. I made it past basic training and began my community work. After eight weeks at the school (and some goofing off), Leader Dogs for the Blind decided that I was not focusing enough all the time. So, I became "career changed" and was offered back to my foster family, who welcomed me back home. Now I have a new career—one I never knew existed! I am a Therapy Dog! What that really means, I am not sure. All I know is that I get lots of hugs, pets, treats, loving, walks, and I get played with most of my days. It's really a great job and easy to do. I still lose focus at times, but someone always helps me get back on track. They call it "Squirrel!" So, even though I am not what I thought I would be—a Leader Dog—I have found a new purpose and like what I have become. I hope I get a chance to meet you!